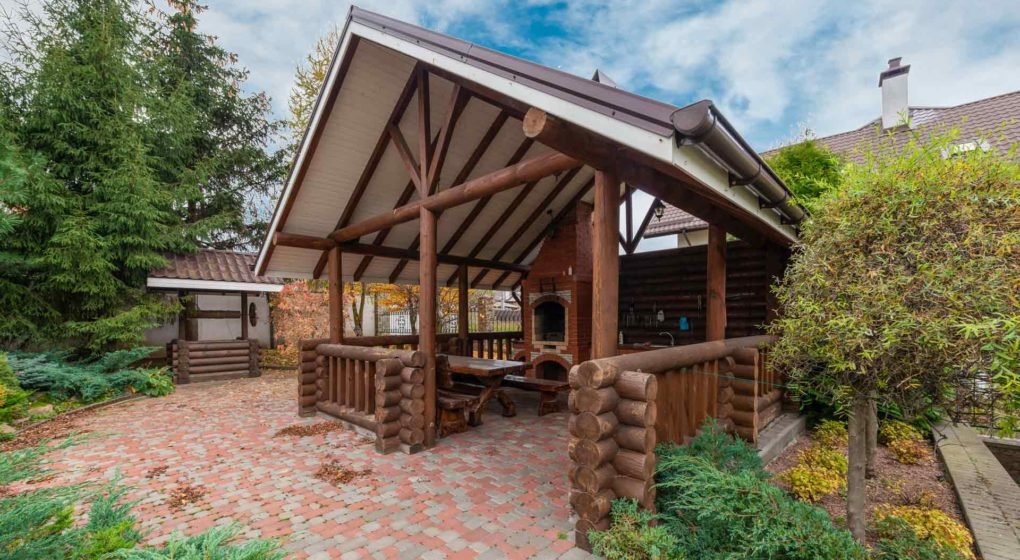 If you want to spruce up your garden with something functional and valuable, check out wooden garden arbours. These outdoor fixtures have been around for ages and still keep on being a favorite addition to plenty of gardens. 
Your external area will be transformed into the ideal spot for lounging in complete comfort, catching up with friends, and catching some rays thanks to the addition of a daybed and some chairs.
You can give it a more personalized vibe and showcase your sense of style at the same time by adding some artwork or embellishments to it.
In this post, let's check out wood garden arbours – their history, advantages, design ideas, how to set them up, and how to decorate them.
The History of Garden Structures Made Out of Wood
Garden arbours made of wood have been around for a number of millennia, but over that period of time, they have undergone a significant transformation in terms of their appearance. Garden arbours served as a location to relax and take in some fresh air in ancient Egypt and Rome.
This was a dual purpose for these structures. Both of these ancient cultures cultivated outside gardens that included arbours as a component of their overall topography. Gardens created during the Renaissance period were distinguished by an increase in complexity and ornateness through the use of intricate sculptures and ornamentation.
This increase in complexity and ornateness was seen in many European gardens. Garden arbours made of wood can be found in a bewildering variety of shapes and patterns, ranging from the tried-and-true to the most up-to-date designs possible.
What is it that makes wooden backyard arbours so cool?
There are a number of positive aspects that come along with enhancing your outdoor area with a garden arbour made of timber. At first glance, it appears to be a wonderful spot to hang out with companions, study, or simply relax.
Second, they provide functional benefits such as shading the area, preventing the flow of breeze, and assisting with the protection of personal space. Your home will end up having a higher market worth as a result of installing a timber trellis in the backyard, which will also make it more appealing to potential buyers.
The Many Varieties of Wood That Can Be Found in Garden Arbors
Arbors in gardens can be crafted from a variety of woods, each of which brings its own set of advantages to the table. Because it is inherently impervious to decay and insects, cedar is an excellent material to use.
Redwood is an excellent choice because it does not decay and it naturally has a beautiful crimson color that makes it stand out beautifully in any landscape. Pine and oak are additional possibilities; however, they require somewhat more care and upkeep than cedar and redwood do.
Enhancing the Appearance of Your Wooden Garden Arbors with These Ideas
Wooden garden arbours can be found in a wide variety of styles, ranging from traditional to contemporary. Lattice and trellis patterns are common in traditional designs, whereas contemporary designs tend to have a more modern feel to them thanks to their clear lines and use of more modern materials.
The use of natural materials in a design, such as wood and branches, lends it a more earthy appearance. Bamboo and traditional Japanese design principles are major sources of inspiration for Japanese fashion.
Advice on the Installation of and Maintenance for
If you want to construct a timber outdoor arbour, you need to make a design and get everything ready. It is absolutely necessary to select an appropriate location, level the ground, and gather the appropriate equipment and materials.
After it has been installed, a wooden garden arbour requires some maintenance in order to keep it looking fantastic and functioning properly. In order to prevent rust and deterioration from occurring, routine cleansing and caulking operations, as well as periodic inspections, are highly recommended. These inspections will also help identify any necessary repairs.
Thoughts to Liven Up Wooden Garden Arbors
Your timber outdoor arbour can be enhanced in a variety of ways, both in terms of its appearance and its functionality, and there are a number of different methods that can be used to accomplish this. 
Hanging some plants from the ceiling, such as tendrils or some blossoms that trickle down, can help you achieve a really interesting and natural appearance. This can be accomplished in a variety of ways. With the assistance of string lights, both the evening and night can be significantly more pleasurable experiences.
Conclusion
Wrapping up, wood garden arbours are awesome addition to your outdoor space both aesthetically and practically. It's easy to pick out a style and design that fits your taste and makes your outdoor space look even better.
If you're after somewhere tranquil to chill or something to add some class to your garden, a wood garden arbour would be an ideal pick. If you make sure to install, maintain and decorate your wood garden arbour properly, it will keep looking and working great for ages.